When was the last time you used your key for opening your doors
Keyhole covers by KeyTechniques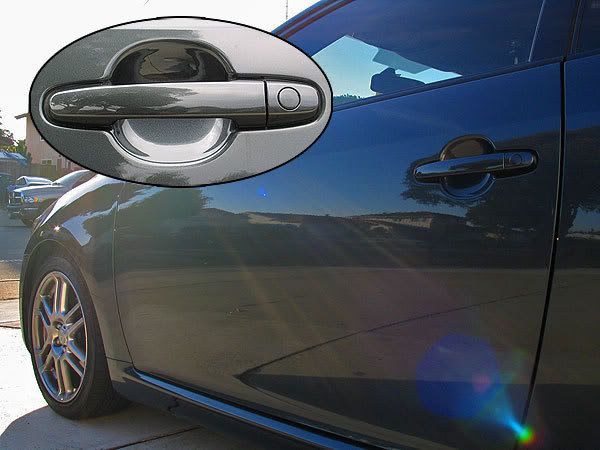 1.Matrix2. xA3. 9th gen Corolla
4. tC
5. Pontiac Vibe
These units cover the key hole to give the car a somewhat shaved door appearance. The key holes disturb the lines of the car and when they are covered up the car takes on a subtle refined uniform look. You may never need to use the key hole if you have the factory or aftermarket key less entry but in case something were to happen don't worry as they can come out in an emergency and can be reused. If the optional method of installation is followed then it will be very difficult for some passer by or some punk kid to remove them without taking great interest.
You may have seen these plugs on factory automobiles like the Lexus and Mercedes and soon enough they will probably remove keyholes all together like my friends Lexus IS250 which doesnít even have one on the driverís side.
Each cover will be modified to fit and will be individually tested before they are painted to OEM colors and shipped out. I use the best and costly materials to paint to assure good color match.
Matrix covers
2 for $16.00 shipped
3 for $22.00 shipped
4 for $26.00 shipped
For international shipping add $2.00
Ordering instructions:
Please follow the instructions with care.

1.) Specify on this thread youíre order with the following information:

a) quantity
b/ paint code (Please check next post for color codes.)


2.) Paypal keytechniques@hotmail.com

3.) You must paypal the amount and indicate in the email subject box or message box the following information:

a) Quantity:
b/ PAINT CODE :
c) Car Make: Matrix
d) SCREEN NAME and name of the website where you ordered:. Matrixowners.com
Instructions on using your Keyhole covers
Warning
*
Your keyhole covers are not colored plastic they are painted so please treat them with care and don't manhandle them
Mounting:
The covers consist of two parts.
1.
Cover
2.
Stem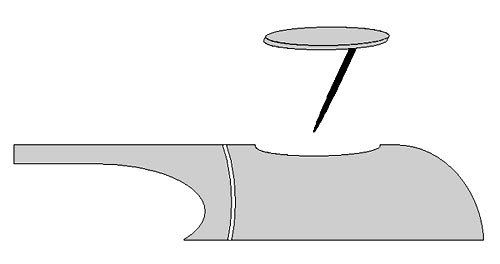 The stem on the Matrix cover comes with a thin coat of contact cement to roughen up the stem and add tension to it. Observe the diagram closely to figure out the orientation of the eccentric stem to the door lock and insert the cover by stabbing it downwards and pushing the stem into the keyhole, then move it around until it is flush as can be. You will notice that the cover goes only one way due to the eccentric stem. If it does not go in on the first try changing the angle until it goes in but don't be rough with it. Remember that you will not get it to be absolutely flush due to the irregular thickness around the hole but you will find that it comes within acceptable range.
Additional step:
Both covers should fit relatively snug but it is best to remove the cover after you have them seated well and add a small bead of contact cement on the stem, Wait 10 minutes then insert them into place. The contact cement only touches the hinged door in one small area on the out side of the lock and the rest is floating on the inside and touches nothing. This will insure that no one can easily remove the cover or any chance of it falling out. I recommend this step to ensure your satisfaction. Contact Cement is a low tension adhesive which is water resistant available at any automotive or hardware store for under $2.00. Please only use this adhesive and not a stronger one.
Removal:
You will need to first push the cover down and insert your driverís license or credit car through the gap and fish it out. the adhesive point on the lock hinge stretches and the cover is free to come out.
Reinsertion:
Take a Q-tip doused in Alcohol and clean the adhesion point on the out side of the lock hinge which dissolves easily and replete the procedure.
The adhesion method is non destructive and can be cleaned up easy with any solvent.
*
[/b]Your covers use some of the best materials for manufacture including a UV resistant clear coat which is special ordered from Germany.
Treat your covers well and it will give you many years of good service
Personal note:
I am a car enthusiast just like you and trusted on many forums for my efforts and services. Please PM me if you have any complaints or problems and I will try to respond ASAP to help solve your problem.
I have sold these covers in the thousands all over the world with great success so please purchase with confidence.
Thanks
dev
Edited by KEYTECHNIQUES, 25 February 2008 - 09:37 PM.